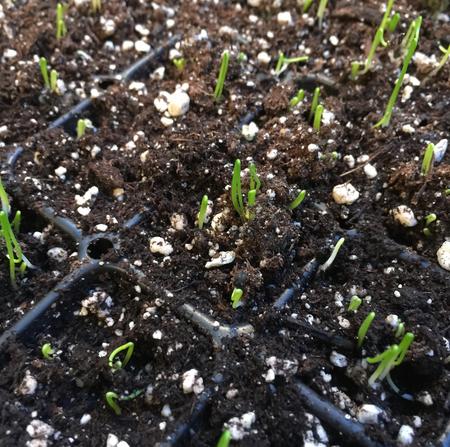 SOURCING SEEDS FOR YOUR GARDEN
First, a quick explanation of seed labeling….
Certified Organic Seeds
Certified Organic are seeds that have been harvested from certified organic crops. These seeds may be a hybrid or heirloom variety, but they cannot be treated with any chemicals. And certified organic seed cannot be Genetically Modified (GMO).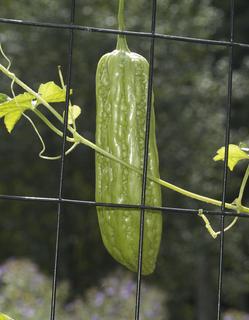 Heirloom Seeds
Heirlooms are seeds from cultivars or varieties that were grown and used during earlier times. Basically, they are seeds that were pushed aside for modern, large-sized, factory-style agriculture methods. Heirloom seeds have been carefully saved and stored and preserved over many years by people who appreciated their unique characteristics. Many heirloom seed varieties have retained their traits through open pollination.
Open-Pollinated Seed
Open pollination is pollination by natural forces like wind, insects, birds, etc. Open pollination is nature at work adapting and changing and diversifying. Open-pollinated plants will produce seeds for new generations; however, because the pollen of these plants is uncontrolled, open pollination may result in plants wide genetic variations. This increases biodiversity, although if you are not careful you may lose the characteristic you love about a certain heirloom. You can do careful breedings of open-pollinated heirlooms using row cover to ensure that your heirlooms stay true.
Artisanal Seed
Some people are breeding their own varieties using open-pollinated seeds. These varieties can't quite yet be considered Heirloom, because they don't have the long history associated with heirlooms, but they are wonderful! 

Hybrid Seed
A hybrid seed is a naturally-bred seed, although it is not open-pollinated. If a seed is labeled as a hybrid, that doesn't mean that the seed is bad or factory ag or GMO. Hybrids are bred to improve the characteristics of the plants, creating varieties with more yield, uniformity, disease resistance, fun colors, and so forth. Hybrids are produced by manually cross-pollinating plants. Hybrid seed cannot be saved, as the seed from the first generation of hybrid plants does not reliably produce true copies. The parent plants of hybrid seeds were bred naturally – they were not genetically manipulated as GMO's are.
You can also have great and super-robust plants from saving your own seed…
We periodically offer a workshop called "Seed Saving 101." One of the most sustainable and rewarding things gardeners can do is save their own seeds! 
We've been saving seeds from a variety of vegetables as well as herbs and native plants for many many years and during this workshop we will share our experiences as well as provide you with all the ins and outs of genetic selection and rules for seed saving so you get pure beautiful heirloom and open-pollinated seeds to use year after year.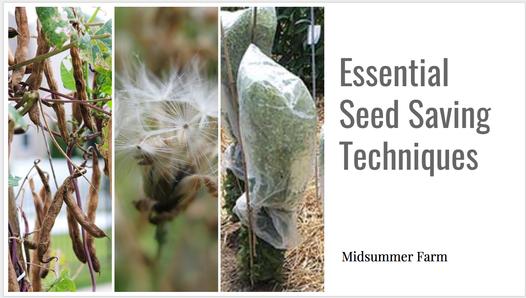 We'll discuss varieties, seed-starting needs, seed catalogs, and spend some time hands-on winnowing!
Seed-Sourcing – some of my favorite places to get great seeds:
I believe in diversity, and I am a bit obsessed with plants so I order seeds from a lot of different places. But I do have my favorite sources that I go back to year after year.
The following list has a lot of certified organic seed companies as well other companies who sell heirloom and wonderful varieties. None of the companies below sell Genetically Modified (GMO) seeds – they have taken the "Safe Seed Pledge." 
Baker Creek
I love these people – I've been getting Jere Gettle's catalog since I think he was still in school, and he sure has turned his passion into an amazing company! The catalog is absolutely gorgeous – the photos make it clear that these people sincerely and truly love vegetables and plants! And the variety of totally cool things! Just awesome!
Bountiful Gardens
Unfortunately it seems that Bountiful Gardens has closed it doors for now – but they have some great links up so I left this in here. This was John Jeavons' company. He is the pioneer of Bio Intensive Agriculture, and has written How to Grow More Vegetables and Fruits (and Fruits, Nuts, Berries, Grains, and Other Crops) Than You Ever Thought Possible on Less Land Than You Can Imagine and The Sustainable Vegetable Garden: A Backyard Guide to Healthy Soil and Higher Yields, two of my favorite gardening books. I practice Bio Intensive Methods on my farm and have based much of my own gardening philosophy upon his books. The seeds he sells are chosen and developed to work well in intensive, organic, sustainable systems.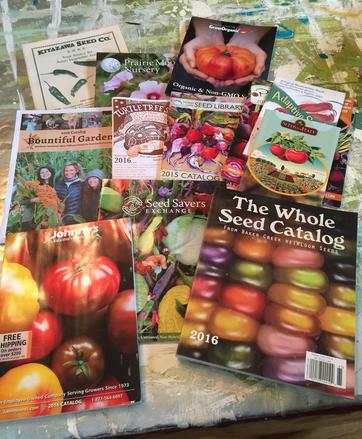 Fruition Seeds 
A lovely assortment of high-quality open-pollinated and organic seeds, specifically adapted for the Northeastern US. Fabulous videos and lots of great information from people whose delight in growing is addictive!
Horizon Herbs/Strictly Medicinals
Strictly Medicinals sells only certified organic seed and plants. If you want to find a rare and unusual herb seed that is also organic, this is where you go! Owned by Richo Cech, who is one of the top North American Gurus of medicinal herb growing, this is a huge resource! Seed selections change seasonally!
Hudson Valley Seed Library
This is a truly awesome place to get your seeds – you can join the Seed Library as a member. Members can save the seeds from the plants they grow and return them back to the Seed Library. You are a part of the whole process of building a Hudson Valley seed bank!
Johnny's Seeds
Johnny's carries a large percentage of certified organic, no GMO, Safe-Seed Pledge.
The Johnny's Seeds Catalog is jam-packed with info and direction and insight. It really is a great reference tool. This is where I buy the bulk of my vegetable and greens seeds. I always get great germination, and the company seems to focus its inventory and development on productive, dependable seed.
Kitazawa Asian Seed Company
A fabulous source of Asian seeds of all sorts. Generous Seed Packets and great germination rates.
Peaceful Valley Farm Supply
Peaceful Valley carries a selection of seed brands, but they also have their own line of certified organic seeds, which are well-priced and high quality. And they offer free seeds with purchases. I get all my bulk cover crop seeds from them as well. Their catalog really does contain everything anyone growing organically could use – fertilizers, greenhouse supplies, soil amendments, row cover, etc. etc. …. Check out their growing videos too – very informative!
Prairie Moon Nursery 
A fabulous selection of native perennial seeds! I buy tons of my native perennial seeds from this great company! And a great and informative catalog with tons of info! They also ship native plants!
Richter's
Richters is in Canada but they have an awesome variety of herb species seeds and plants – and many are organically produced.
Restoration Seeds
A great source for open-pollinated seeds – great for saving and developing your own varieties. We love their mixes of pre-finished varieties, like their Belgian Breeders Mix Leeks. 
Seeds from Italy / Franchi
Franchi Seeds of Italy is the world's oldest family-owned seed company founded in 1783. This is where I get my arugula, many chicories, punctarella, agretti, erba stella, white gherkins, escarole, wild fennel.
Seed Savers Exchange
Dedicated to heirlooms! I adore this catalog and have had wonderful success with germination! A source of over 600 heirloom and open-pollinated varieties, and a large selection of organic seeds.
Sustainable Seed Company 
A great seed source – certified organic and lots of diversity
Totally Tomatoes
I always turn here when I am searching a particular unusual heirloom tomato variety – great selection and safe seed pledge!
Turtle Tree Seeds
Turtle Tree features unusual European varieties that are steeped in Biodynamic Tradition, as well as being certified biodynamic. I've always done great with these seeds. They even have Mangels, a traditional winter feed for rabbits and chickens. I also make sure to buy the 4 of the 5 most important biodynamic herb seeds from here – Stinging Nettles, White Yarrow, Valerian, and German Chamomile. (The 5th is Dandelion, actual dandelion, taraxacum, for which I don't need seeds!)
Victory Seeds 
An amazing variety of heirloom and artisanal tomato seeds and other seeds! Safe Seed Pledge too.