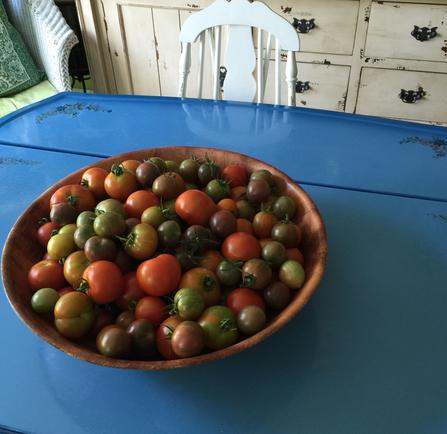 We offer a traditional Italian Cooking Workshop in the Fall in the farm kitchen. We'll be making these sauces along with other sauces and other classic and delicious Italian dishes.
"Sunday Meat Sauce" / "Sunday Sauce"
This is more of a long cook stewing of the tomatoes … The soffritto or mirepoix and the meat keeps the sauce sweet and it doesn't make that much of difference if you use canned or fresh tomatoes with this one. You can also skip adding the meat – the recipe comes out as a flavorful tomato sauce – you may want to add a dash of sugar, but this is not always necessary (it depends on the tomatoes).

For a sauce that really takes advantage of Fresh Tomato Flavor – see our Merry Tomato Season Recipe Page.

If you use canned tomatoes – choose a brand that is organic and packaged safely – like Eden or in glass rather than in a metal can.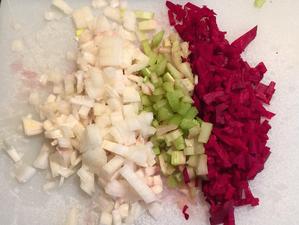 Ingredients
Olive oil to coat bottom of a large pot
1 large onion – chopped finely
5-6 celery ribs – chopped finely
4-5 carrots – chopped finely (or a beet works as well!)
½ red bell pepper – chopped finely
A dash of wine (white or red works fine)
1-2 pounds of short ribs 
6-10 cloves of garlic – chopped roughly
a pinch of red pepper flakes
a small handful of dried oregano or Italian seasoning
1 large can or about 4 cups of frozen diced tomatoes
1 large can of whole peeled tomatoes
1 can of tomato paste3-4 leaves of fresh rosemary – optional*
sliced mushrooms – optional*
* The rosemary and mushrooms add an extra boost of meatiness to the overall flavor.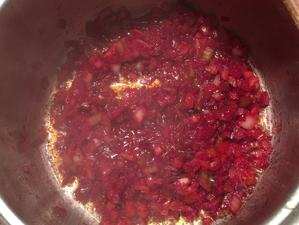 Start by heating up the Olive oil and adding the onions, celery, red bell, and carrots (soffritto or mirepoix), and a dash of salt and pepper. Cook on medium heat, stirring often, until they are tender and starting to color and just starting to stick to the bottom of the pot. Pour in the dash of wine and use it to deglaze the bottom of the pot. Add the meats. Cook the meat until it is cooked through. Then add the garlic, red pepper flakes, rosemary, oregano, and large cans of tomatoes, mushrooms, and paste.
Turn heat down to low and let pot simmer slowly with cover ajar for at least an hour. It can pretty much simmer all afternoon. At some point, do a taste test and add salt and pepper to taste. I usually sneak some anchovies in there at some point…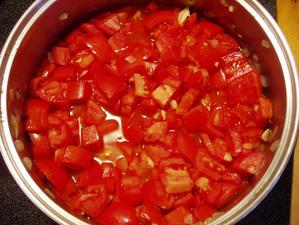 Note – To make a Pink Sauce or a Pink Vodka Sauce – Scoop out about 1 cup worth of this sauce, trying to avoid the larger meat pieces. Put in a small saucepot, and heat on low. Once warm, add heavy cream a little at a time until it turns the shade of pink you like. Heat up to just about to bubble – you really don't want this to get too hot and bubbly. Once it bubbles a tiny bit, you can add about 2 tbsp of vodka if you want. Let that just mingle and heat up and then serve…
We also like to add some meatballs and sometimes sausage to this sauce.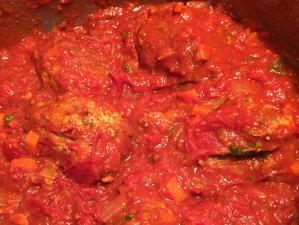 ---
Meatballs
Ingredients
1 tbsp Olive oil – then about ½ cup Olive oil
½-1 onion – finely chopped 
3 tbsp dried oregano / Italian seasoning
1 lb of ground beef or you can use the beef, pork, veal mix if you want
½ cup dried parsley
garlic granules or powder to taste 
4-5 slices of lightly toasted bread, then broken up into ½ inch pieces'
½ cup of grated romano cheese
2 eggs
Salt and black pepper
Water 
4-5 Smashed garlic cloves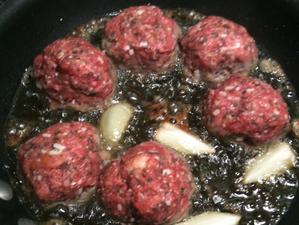 In a large frying pan, sauté the onion and dried herbs until onions are soft and translucent in olive oil, then take off the heat and let cool down a bit.
Put ground meat in a large bowl and loosen it up. Add eggs, parsley, bread pieces, onion mix, garlic granules, romano, black pepper, and a dash of salt. Mix all together but don't overwork. As you mix it together, add water, a little at a time. You want the meatballs to hold together but feel loose. Form into evenly sized balls…
Heat up the frying pan again, adding the ½ cup Olive oil. (If you want really big meatballs, you may need to add more olive oil. The general rule is for the Olive oil to reach about halfway up the sides of the meatballs. Heat it gradually and keep heat low.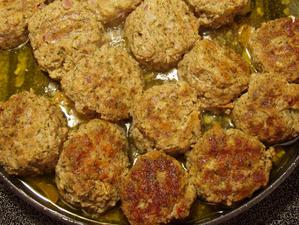 Once oil is hot, add smashed garlic cloves. I usually add them one at a time as tests for the level of heat. If you drop one in and it doesn't sizzle at all, then you need to heat it up more. If you drop one in and it starts wildly sizzling, then you need to cool it down a bit before adding the meatballs. The temperature is important – if the oil is too cool, the meatballs will end up greasy. Once you drop in a garlic and it sizzles perfectly, then add meatballs.
You want to only turn them once or twice at the most. Just slide a spatula under them every once in a while and make sure the bottoms aren't sticking too badly.
Once they are brown on both sides, scoop them out and add them to a tomato sauce!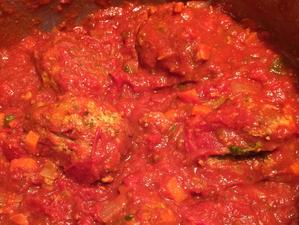 ---
Ragù Bolognese – Authentic Bolognese Sauce
Note traditionally this recipe's flavors do not call for Italian herbs cooked in. I like to add a handful of chopped fresh raw herbs like parsley and basil over the plated sauce.

Ingredients
2 tablespoons olive oil
4 tablespoons butter 
1 large yellow onion – chopped finely
2-4 carrots – chopped finely
2-4 celery ribs – chopped finely
4 garlic cloves, very finely chopped
about 4 slices of pancetta or bacon – optional 
Kosher or sea salt 
Freshly ground black pepper
2 lbs lean ground meat (blend of veal, pork, and beef – or just beef, if you prefer)
1 cup dry white wine (like a Chardonnay)
2 cups milk
1 28-oz can whole San Marzano tomatoes, chopped or about 4 cups of frozen diced tomatoes (you will use both the liquid as well as the tomatoes)
1 cup beef or poultry stock 

Place a large saucepan over medium heat and melt the butter in the oil. Add the onion, carrot, celery and garlic with a good pinch of salt (about ½ teaspoon) and sauté for 5 minutes, stirring often. Add the pancetta if using and cook for a further 10 minutes, until vegetables are softened and pancetta is golden.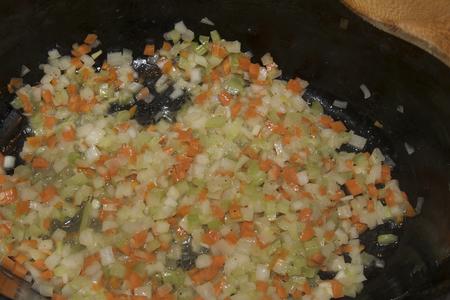 Increase the heat to high and add the meat a third at a time, stirring and breaking lumps with a spoon between each addition. Adding the meat gradually allows the water to evaporate – which is key if you want to brown your meat and not boil it. After the last addition, when no pink can be spotted in the meat and no lumps remain, set a timer to 8 minutes. You want your meat to caramelize and even become crispy in spots. More water will evaporate and flavors will concentrate. You want golden bits of meat to stick to the bottom of your pan – this flavorful crust will then be deglazed with white wine. But do watch over your pan as you don't want your meat to burn. When you see some serious caramelization action happening, lower the heat – it may take a bit more time – up to 15 minutes.
After your meat is carmelized, bring heat back up to medium and pour the white wine into the saucepan. With a wooden spoon, scrape all the brown bits stuck to the bottom of your pan. Push the meat all around to make sure you scrape it all off. By the time you're finished, the wine will be evaporated (2-3 minutes). Be careful not to let the meat stick again (lower the heat if necessary).
Add milk, diced tomatoes (with liquid), stock, 1 teaspoon salt, and a good grinding of pepper. Bring to a boil and then lower to the lowest heat and let simmer very slowly, half-covered, for 4 hours. Stir once in a while. If your sauce starts sticking before the end of your cooking time, lower the heat (if possible) and/or add a bit of stock or water. In the end, the sauce should be thick like oatmeal. Adjust the seasoning one last time – don't be afraid of adding more salt (tasting each time you add some), it is this recipe's key seasoning.
To serve: Reheat the sauce. Mix in about two generous tablespoons of freshly grated parmigiano-reggiano per serving – you can also add a knob or two of butter – these last additions will produce an incredibly creamy flavor, but they aren't totally necessary. Drain your pasta very well and return to the pot. Spoon some sauce, just enough to coat the pasta. Serve in bowls with chopped fresh parsley or basil sprinkled on top and more freshly grated parmigiano-reggiano, to taste.
---
Lamb Ragù
This is one of our absolute favorite sauces for pasta. It does a while to cook – but it is worth it. All that cooking time is to build the flavor.
This is perfect for a cold day and so unbelievably savory.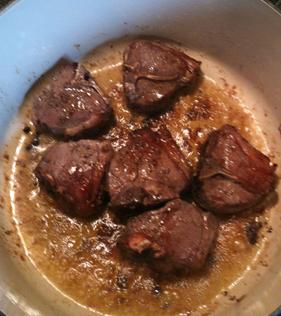 Ingredients
Olive oil to coat bottom of a large pot – I always use cold-pressed extra virgin about 2 pounds of lamb with bones (I usually used shoulder slices but chops work well too. You can also use shanks but you will need to cook the meat longer as they are much thicker.)
1 medium onion – chopped finely
2 tbsp dried onion granules or powder
2-3 celery ribs – chopped finely
3-4 carrots – chopped finely 
4 cloves garlic, crushed
1 tbsp minced fresh herbs – I usually use mostly rosemary with a dash of sage 
a pinch of red pepper flakes
1/2 cup of dry wine – could be red or white – just nice and dry 
6 cups of canned or frozen diced tomatoes with their juice 
1 large can of whole peeled tomatoes
sliced mushrooms – optional
salt and black pepper to taste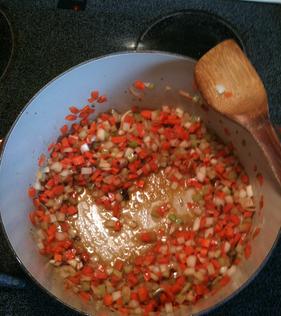 Start by heating up the Olive Oil until simmering but not smoking. I use my 5-6 quart heavy-duty dutch oven.
Pat lamb dry and rub with some salt and pepper. Using tongs, add the meat to the dutch oven and sear on each side for 3-4 minutes. Meat should be nice and brown. If thick, sear edges too. Then remove from heat to a covered plate.
Reduce the heat to medium-low and add the onion, celery, carrot. Cook for 10 minutes, then add the onion granules, garlic, herbs, and red pepper flakes. Cook, stirring frequently until all is softened.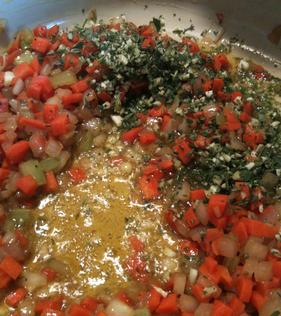 Then add the lamb back in with all the juices in the plate. Raise the heat to medium-high and pour in the wine. Cook for about 2 minutes then add the tomatoes. Bring it back up to a boil and then reduce heat so it is a light simmer. Cover with lid slightly ajar. Cook until the lamb is fork-tender – this will take about 2 hours or more depending on the cut of the lamb.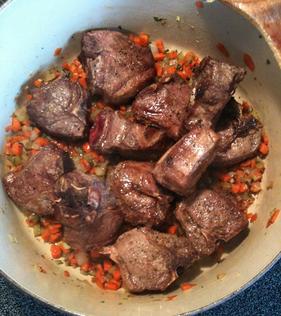 Once tender, remove the meat from the sauce and let cool down enough to handle. As the meat cools, check the sauce for seasoning. If the sauce seems thin, let it continue simmering with lid off. If the sauce is too thick, you can add a dash of water.
Shred the lamb with forks, creating nice stringy "pulled pork" texture. And return it to the pot.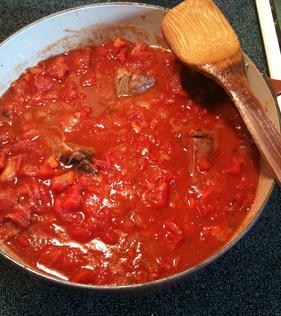 Heat up the sauce again with the meat in it and serve over pasta.
As with all these sauces, they can be reheated for several days or frozen for several months.
Choose a pasta that can hold this thick sauce. You do want a lot of sauce in every bite!
Enjoy!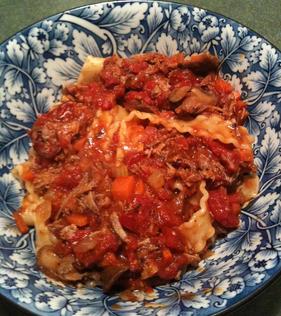 ---
Click here to go back to our main recipe page
Or if you are interested in our Freshly Harvested Tomato Recipes, Click here!